Bujo's an acronym for "bullet journal" and there are many ways you can go about creating one for your needs.
This Buzzfeed article sums it up nicely for a quick read: https://www.buzzfeed.com/rachelwmiller/how-to-start-a-bullet-journal?utm_term=.qtmyj5DmWq#.sfoJER5e2l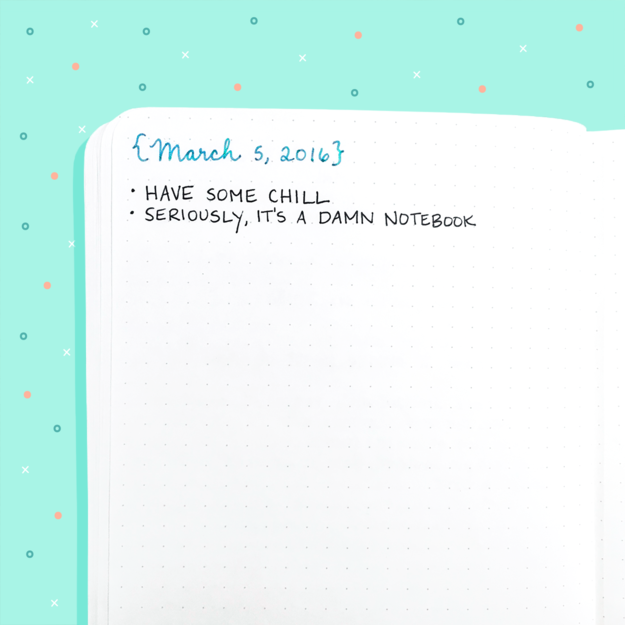 As Buzzfeed says, don't overcomplicate things! Have some chill. Writing in it gave me doubts like:
OMG, am I doing this right?
What if it looks like crap? (It often does for your first time,so this fear's pointless)
What if I want to change it later? (Well, there are 365 days in a year, you should be getting one to your satisfaction!)
What I want to talk more about is the options you may get in Kuala Lumpur and my experiences with the different BUJO elements. I hope it helps!
The book: From any book/planner to the likes of Moleskine and Leuchtturm, I admit I got swept up in the hype of owning a Moleskine. I've not tried Leuchttum, though Moleskine appears to be overrated. No doubt the paper is thin and smooth, but Rhodia has better quality and is more reasonably priced. In retrospect, Rhodia would have been my choice.The medium Moleskine is now used for work or the random angry rants, where more space is needed. For dailies, Traveler's Notebook has proven to be just what I need. It can be adjusted easily and if you are a fellow restless soul, this would probably be more up your alley. You can opt for clear pages, squared, free diary pages, even watercolor pages! Random doodling, washi tape, stickers and a good pen can also go a long way in jazzing up your week and days.

Pens: Do not compromise on this. Do not buy cheap, crappy pens and have them leak through your pages. The Sakura Micron and Tombow pens may appear a bit pricey, but they are well worth it. Sakura Micron comes in different point sizes which make doodling and writing a breeze!

Though I am a fan of the Sakura Koi brush pens, the tips may not last as long as the dual Tombow pens shown below. Want a cheaper option? The crayola markers (Supertips/Pipsqueaks washable markers) may just work for you. I share them with my tiny tot.

A big fan of these pens, also the Tombow Fudenosuke pen!

It comes with both the hard and soft tips. Trying the hard tipped one and no complaints so far. Just remember to cap it nicely because it would stop working otherwise. This pen does not come back from the dead.
Washi tapes and stickers: If your handwriting is not as aesthetically appealing, these tools may come in handy to make your bujo look pretty! Play with layers and pick those that relate to you. Constantly experiment and you will find that it's easier to create a masterpiece than a disaster! Stickerrific and fasyshop are my main squeezes on instagram right now.


The shops: In Kuala Lumpur, it's best to explore options. You have shops like CzipLee and Stickerrific aside from the online ones. The look and feel of the things matter so it's more of the stickers and washi tapes I buy online. I love the Stickerrific shop, it's got a vast selection and man, they keep updating their merchandise which keeps me coming back for more. There are new things quite often so you may want to check their instagram out (@stickerrific). They also have an online store: http://www.stickerrificstore.comIt also depends on what you want to get. For watercolor, check out Art Friend at the Gardens Mall. Compare prices like we Asians do.
Inspiration: The. possibilities. are. endless. Dawn Nicole Designs (bydawnnicole) is inspirational with @surelysimpleblog on instagram, thebulletjournaladdict, letterings.my shabbychiccrafting, lettersinnovember, mommylhey the list goes on! For local favourites, missplanplan, ronnycakes have some pretty awesome stuff! Don't forget Pinterest.
Workshops: You'd be amazed at how many people actually have this hobby in Kuala Lumpur. Brush lettering, watercolor and even art journaling workshops tend to happen monthly. I've been to two watercolor workshops and one brush lettering workshop thus far and it's been great (will blog about them in the future). You have online sites like http://www.creativebug.com that also help you learn with videos. However, if you find yourself banging into a wall or jammed, it helps to go for one of these reasonably priced workshops!
Here are a few you can check out on instagram, pick whichever tickles your fancy:
– lettersbyjuey: brush lettering. She is so friendly, a big recommendation.
– shazanawrites: brush lettering. Attending one this weekend. 😉
– wkndiminlove: watercolor. Loved her classes and her personality. She has real talent.
– blackmilkproject: they have a range of classes. Yet to try.
– theartsycraftsy: they have a range of classes. Yet to try.
Dabbling into Bujo led me on a journey with brush lettering and watercolor. Mixing elements and creating layers in a book personalized for you is therapeutic. Am nowhere near being an expert and I still produce the crappy stuff at times; the beauty is in trying and pushing boundaries. Let yourself be inspired!

Wish you luck in starting your bujo, am confident you will love it!